Texas Harvest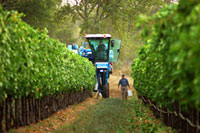 Driving towards Texas wine country is like driving into unforeseen land, a hidden underworld sprawled against the hill country backdrop along dirt roads and deep canyons. If you blink, you won't miss it, because it just keeps going and going like a Texas sunset.
Texas is the country's fifth leading wine producing state behind California, Oregon, Washington and New York. Our "hot weather" grapes are compared to those from several regions in Spain.
Some facts about Texas wine:
Our state wine industry employs over 8,000 people annually.
The Texas wine industry brings in over $1 billion in revenue each year.
The oldest winery in Texas began in 1883 and it is still in operation.

Local wine makers today will quote that central Texas soil is very similar to that in Italy, Spain and France which is no wonder; our European ancestors brought over vines from their native lands and began what is now Central Wine Country.
On my first stop into what would be surely be a day of great tasting, I came upon Texas Hills Vineyard – a small Italian style villa nestled amongst lush Johnson City live oaks. Accompanied by his Labrador retriever, Natahsa, Gary Gilstrap explains how he got to this life, ten years in the making. From pharmaceutical software engineer to wine maker, Gary uses precise scientific testing and the micro-oxygenation process rather than the traditional barrel wine making. It's an interesting approach and after tasting his delicious "Texas fruit only" blends, I had a smile on my face and knew this was a place I would soon return to.
Micro-oxygenation is a process used in winemaking to introduce oxygen into wine in a controlled manner. It was introduced in 1991 and has gained wide usage around the world.

Your vacation guide to Puerto Vallarta

A Taste of Germany: Fredericksburg, a Central Texas Historic Getaway

Austin, Could Your Property be a Goldmine for SXSW Visitors?

Austin, Texas 2012 Calendar of Events

The Houston International Festival Transforms Downtown Houston by Spotlighting the Culture of Argentina

Guanacaste, Costa Rica: Nature Calls

Tequila, Mexico: Not Just a Day Trip Any More

Vacation Rentals Popular for Spring Break Getaways



Beyond South Beach: Mary Brickell Village is Undiscovered Miami