Honduran father finds purpose after son's surgery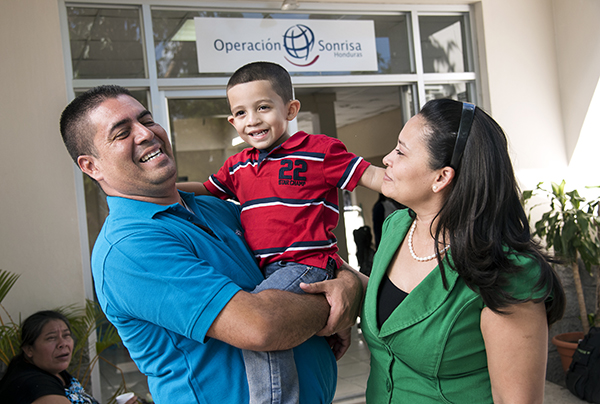 When Alex Guerrero laid eyes on his youngest son Cesar for the first time he saw beyond his clef lip and cleft palate and into his beautiful soul. His wife and three other children felt the same way. The Guerreros spent many sleepless nights afraid Cesar would choke to death because of his breathing challenges or because they hadn't yet figured out how to feed him properly.

"Those were honestly completely desperate moments in our lives," Guerrero said. The family resides in the Central American country of Honduras.

The parents reached out to doctors at every hospital and clinic they had access to in hopes they could find the help their son desperately needed. The responses were all the same: an operation was too costly, if not, impossible, and the facilities did not have the necessary resources.

Doctors cautioned them against Operation Smile, which they claimed sold children's organs for money, and offered subpar services. But in spite of advice to the contrary, the Guerreros reached out to the organization in a last-ditch effort to save their beloved son.

"We made the decision this was the last place we would reach out to," Guerrero said. "If they couldn't help us then we would prepare for the death of our son."
He remembers the first encounter with staff at Operation Smile as if it were yesterday.

"We realized everything we had been told was a lie," he said, "and that God had led us right to where we needed to be."

Cesar received some examinations that same day. Medics told the parents that Cesar qualified for an operation based on his lab results.

Though the news was hopeful for a change the Guerreros worried about the cost quickly adding up. Then they discovered that was not something they needed to worry about.

Operation Smile is an international medical charity that offers free surgeries to children in developing nations who are born with a cleft lip, cleft palate or other facial deformities. It is one of the longest-running and largest volunteer-based organizations dedicated to improving the lives of children worldwide through surgical care.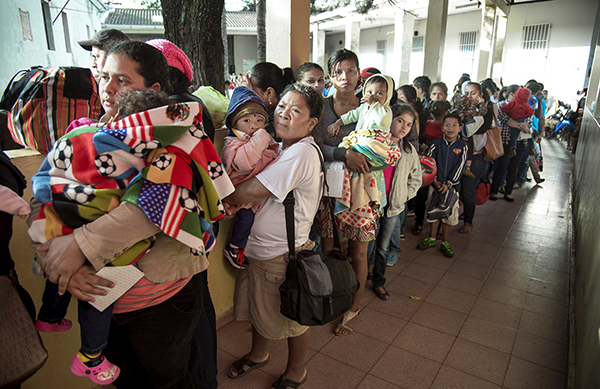 Cesar received the operation the day after he got his lab results back.

"We felt like we'd woken up from a long nightmare," Guerrero said, "and we started seeing a light at the end of the tunnel. That light was Operation Smile."
He said he couldn't believe it when he learned the charity also covered therapy, nutrition plastic surgery and other related costs.

"Besides the operation, it's the care, with that special human touch," Guerrero said. "It's the most beautiful thing that we as parents can receive."
Up until that point, Guerrero said the family was used to preparing for the worst.

"It provided us a sense of relief and hope," he said. "It was a way for us beginning to trust that our son would smile and be healthy again. He could breathe at night so we could sleep."

The Guerreros felt happy and motivated for the first time in a long time.

"We suffered a lot with our son for lack of information," he said.

Now, the Guerreros are on a mission to spread the word to as many Honduran families as possible who have children with a cleft lip or cleft palate.

Since the Guerreros became involved roughly 100 children from rural Honduras have received much needed operations and treatment. They go door-to-door, if necessary, helping spread the word about Operation Smile and the resources available to qualifying families. The next step is to get them to the clinics. Once the Guerreros get those new patients to the clinic Operation Smile medics take over.

"We and the clinic cover our parts," Guerrero said, "in transportation, nutrition, treatment, or anything they need so they don't have to spend any money."
He said it's the family's "labor of love" and felt a calling to the cause after seeing Cesar smile post-surgery.

Guerrero said before the family started volunteering at an Operation Smile clinic, there was no record of how many children were born with a cleft lip or cleft palate. This was because most children were presumed to die from their condition at an early age. Only the deaths were recorded.

Of the 100 or so children the Guerreros have been in touch with, he believes more than three-quarters have already received an operation or are receiving treatment.

"Treatment lasts 20 years," Guerrero said, suggesting that children and their families still have challenges to overcome in the future.

According to Operation Smile staff, 1 in every 700 babies in Honduras is born with a cleft lip or cleft palate. This accounts for 12,000-14,000 Honduran children.
Guerrero said when they started their volunteer work the family would bring in as 30 patients or as little as 17 patients in a week. The most recent trek resulted in three new patients.

"I was worried I had only brought in three but we came to the conclusion there were only three left in the territory of Olancho," he said.

Olancho is the largest department, or state, within Honduras and is located on the eastern part of the country. Olancho is sparsely populated and is a rural, heavily forested area. Guerrero said Olancho, alone, is slightly larger than the entire neighboring country of El Salvador.

"Cesar's operation was simple," Guerrero explained. "He has had four operations thus far. Others' operations are much more complex and they all receive surgery and treatment at the clinic for free."

Guerrero has visited all the health clinics in his region to advocate for Operation Smile. Last May, the organization honored him for his work at Operation Smile's NEXT Global Conference. He even inspired a new program, Patient Advocates, developed to recruit patients around the world. Guerrero is now affectionately known as "Don Alex" for his commitment to Operation Smile's cause.

"Before Don Alex started his voluntary work we lost these patients," said Dr. Ramon Irias, pediatrician at the regional hospital San Francisco in Guerrero's hometown of Juticalpa. "We don't have any plastic surgeons here, they never got the medical care they needed, they lost weight, malnourished and many died."
Ninety-five percent of the people Don Alex helps live under extreme poverty. Guerrero explained that most of them don't have enough food to eat more than one meal a day, let alone cover complicated and expensive medical procedures for a child.

"There are many reasons why they don't come to the center --- one of the biggest barriers is the financial one," shared Yanuario Garcia, project manager of the pilot Patient Advocates project. "The costs of transportation, the salary they stop receiving from the moment they leave. Another problem is that they need to find someone to take care of the other children staying at home."

Sometimes the roads are in bad shape, especially during the rainy season. Many patients traveling from rural areas need up to three days to commute to Tegucigalpa.

This results in a patient recruiting problem that Patient Advocates is attempting to tackle.

"The raw model and inspiration for it being Don Alex himself," staff at Operation Smile said. The organization's website reports that every three minutes a child is born with a cleft lip or cleft palate. Many are faced with a life of isolation, ridicule and pain. This was the Guerreros' greatest fear second only to death.

In Latin American and the Caribbean, 1 in 5 of these children will die. Operation Smile and its partners are matching every dollar donated right now until June 30. Find out more by visiting https://secure.operationsmile.org.

"I'm the happiest father in the world," Guerrero exclaimed. "I'm so fortunate that I've been allowed to meet the angels that walk the earth. Those angels are at Operation Smile. My mission now is that for as long as I live there will not be a single person in my country that has to live with this deformity."
Editor's note: Popular Hispanics interviewed Alex Guerrero via telephone. The comments were translated from Spanish to English for this article.

Christine Bolaños is an award-winning national magazine writer and freelance journalist. Her most recent work can be found in Latina Style Magazine, Austin American-Statesman, The Liberty Hill Independent and Popular Hispanics. A Baylor University graduate with a Bachelor of Arts degree in political science and journalism, Bolaños also serves as secretary of the National Association of Hispanic Journalists-Austin Chapter. Connect with her via Linked In at https://www.linkedin.com/in/christinebolanos or Twitter @bolanosnews08.

Introducing Laredo's Newest Tourism Attractions

Aeromexico Announces a New Canadian Route: Mexico City – Vancouver

Amber Lounge brings Monte-Carlo Glamour to Mexico City


Your vacation guide to Puerto Vallarta

A Taste of Germany: Fredericksburg, a Central Texas Historic Getaway

Austin, Could Your Property be a Goldmine for SXSW Visitors?

Austin, Texas 2014 Calendar of Events

The Houston International Festival Transforms Downtown Houston by Spotlighting the Culture of Argentina

Guanacaste, Costa Rica: Nature Calls

Tequila, Mexico: Not Just a Day Trip Any More