Top Ten Summer Drinks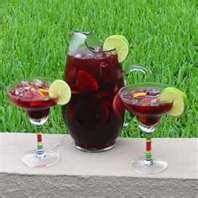 10. Sangria
A simple summer classic, sangria is perfect for parties and backyard barbecues. Try this simple recipe; all you need is 1 bottle of red wine 1 quartered lemon 1 quartered orange 2 tbsp of sugar 1 shot of brandy 2 cups of ginger ale Pour the wine into the pitcher and squeeze the juice from the lemon and orange into the wine. Put the lemon and orange slices into the wine and add the sugar and brandy. Chill the mix overnight and add the ginger ale immediately before serving.

Top Ten Ultimate Experiences While Staying at the Fiesta Americana Grand Los Cabos Golf & Spa


Top Ten Hispanics at 2011 Austin Comic Con!

The Top Ten Finalists of the Chicas Tecate Nationwide Search

Top Ten Places to Experience in Northern New Mexico