Dallas meets Dexter: A serial killer mix "maid" Latin style!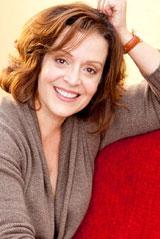 What's the best role you played so far?
My best role was on a show called Daybreak with Taye Diggs, which didn't get seen. I was Lady M, playing the wife of the mayor. I had something like 6 episodes and it was fabulous but unfortunately very few people saw it.
You're also playing in another popular TV series, The Secret Life of the American Teenager – what appeals to you about this show?
Yes, I play a very liberal grandmother whose teenage granddaughter is pregnant and is sent to me to sort of hide from the shame while she goes through her pregnancy. I absolutely love this show because it deals with a lot of teenage issue – drugs, sex, pregnancy, meanness among kids and bullying. I'm having a lot of fun on the set. I wear high-heels, tight jeans and fake eye-lashes…this grandmother role is the sexiest role I've played!
What other upcoming projects are you working on?
I'm going to LAByrinth Theatre Company in New York for this summer to play "Dark Matter," one of my husband's (Oliver Mayer) plays, which will be fun. I also have a movie coming out hopefully in the fall. It's a spoof of Paranormal Activity I did with Marlon Wayans. It's a comedy. Right now the working title is Smart Ass, but it might change.
How have you maintained your attitude to withstand the ups and downs of this industry, particularly being a woman and being a Latina artist in this business?
I always keep a really good sense of humor and I try to keep a voice. I've been lucky because even though I have played a lot of maids, I never played anything that I don't want to do.
Related links:

JERSEY BOYS "Fan Pack" Sweepstakes


Classical and Flamenco Guitar & Austin

Mexican American Experience returns with Grammy-winning acts

RODRIGO SANTORO as Xerxes in "300: RISE OF AN EMPIRE"

WINTER'S TALE "Valentine's Day Prize Pack" Sweepstakes

SUPER BOWL HALF TIME SHOW PERFORMER BRUNO MARS IN RIO 2!

THE LEGO MOVIE: Advance Screenings

The influence of Hispanic music in the US

The Bobby Sanabria Grammy-nominated "Multiverse" Big Band At Americas Society: A Review

ENDER'S GAME: Movie Screening Promo for Guaranteed Seats

KLRU Celebrates Hispanic Heritage Month with special programming

The 7th Puerto Rican and Cuban Festival and First Carnaval Americas

2013 FESTIVAL PEOPLE EN ESPAÑOL

Meet Flamenco Dancer and Teacher, Pilar Andújar

RED 2 Screening: Only in El Paso & LA

HBO Latino Presents Romeo Santos Concert Special

Becky G Partners with Vevo to Premiere the Music Video for "Becky From The Block"

Jon Huertas – New Single "Ledge of Love"

Interview with ALMA Award Winning Actress Michelle C. Bonilla


Austin Classical Guitar Society Presents Grammy Award-Winning La Guitar Quartet

Patricia on Patricia: An Interview with actress, Patricia Rae

Jorge Caballero and the Miró Quartet Join Forces in Austin Again

PH interview animator Antelmo Villarreal from Ice Age: Continental Drift

"Brave" animator and Popular Hispanic Ramiro Lopez Dau chats with PH!

Popular Hispanic of the Month: Darlene Caamaño Loquet

Award-Winning Actress Yareli Arizmendi and Filmmaker Sergio Arau Discuss Love and Mexico

A Look Inside the World of Sci-Fi Author and Publisher Sandra Desjardins