Dallas meets Dexter: A serial killer mix "maid" Latin style!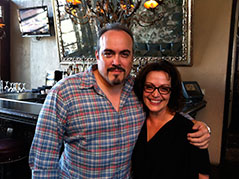 In a Popular Hispanics exclusive, Puerto Rican native David Zayas, who portrays Angel Batista on Showtime's hit cable series Dexter, gets up close and personal with his dear friend Marlene Forte, the Cuban-born actress who snatched the final series regular role on Dallas, TNT's reboot of the iconic 1980s TV show that has very much become an American institution.
So what's new Marlene?
Well, I'm going to toot my own horn here, but I just got news that the Hispanic Organization of Latin Actors is giving me an award for "Excellence in Television." I'm very honored and excited. They're flying my husband and I to New York in October.
Congratulations! That is fantastic. Speaking of Latinos, how did your Hispanic heritage influence your work and life?
My Hispanic heritage has really influenced me because the best roles I've had, I played my mother. I just channel my mother or my sister in almost every role. Actually, my mother is who I play on Dallas. My mom gets me far in life. You know she has a good sense of humor; she's opinionated, smart and funny.
Do you see a rise in the quality of roles that are available to Latinos now? Do you feel Latinos are evolving in the entertainment industry or do you think they are still typecast to play certain stereotypical roles?
I think it's rising really slowly. It has gotten better though. I don't mind stereotypes. Unfortunately in our culture we do have drug dealers, maids, etc. – this is the reality we live in and I don't mind playing them as long as they're three-dimensional characters.
How did you get the role of "Carmen" on Dallas?
I auditioned for it. After they saw everybody in Dallas, New York and LA, they decided to give me a shot. At first I didn't want to read the script because I really didn't want to play a maid on TV. My manager Paolo sent me the script right before pilot season. He says "It's Bobby Ewing's cook." I go, "What?" So it sat on a desk for months and I finally read it and decided that I wanted the role because she's funny and she stands on her own.
Years ago, you and I did a film called Lena's Dreams. Seeing the career path you've had since, how do you think Lena would have ended up today?
I found my way on television. That's my medium, and I love film, but it seems that television likes me more and that's perfectly fine with me. So Lena would have ended up on Dallas playing a maid!

JERSEY BOYS "Fan Pack" Sweepstakes


Classical and Flamenco Guitar & Austin

Mexican American Experience returns with Grammy-winning acts

RODRIGO SANTORO as Xerxes in "300: RISE OF AN EMPIRE"

WINTER'S TALE "Valentine's Day Prize Pack" Sweepstakes

SUPER BOWL HALF TIME SHOW PERFORMER BRUNO MARS IN RIO 2!

THE LEGO MOVIE: Advance Screenings

The influence of Hispanic music in the US

The Bobby Sanabria Grammy-nominated "Multiverse" Big Band At Americas Society: A Review

ENDER'S GAME: Movie Screening Promo for Guaranteed Seats

KLRU Celebrates Hispanic Heritage Month with special programming

The 7th Puerto Rican and Cuban Festival and First Carnaval Americas

2013 FESTIVAL PEOPLE EN ESPAÑOL

Meet Flamenco Dancer and Teacher, Pilar Andújar

RED 2 Screening: Only in El Paso & LA

HBO Latino Presents Romeo Santos Concert Special

Becky G Partners with Vevo to Premiere the Music Video for "Becky From The Block"

Jon Huertas – New Single "Ledge of Love"

Interview with ALMA Award Winning Actress Michelle C. Bonilla


Austin Classical Guitar Society Presents Grammy Award-Winning La Guitar Quartet

Patricia on Patricia: An Interview with actress, Patricia Rae

Jorge Caballero and the Miró Quartet Join Forces in Austin Again

PH interview animator Antelmo Villarreal from Ice Age: Continental Drift

"Brave" animator and Popular Hispanic Ramiro Lopez Dau chats with PH!

Popular Hispanic of the Month: Darlene Caamaño Loquet

Award-Winning Actress Yareli Arizmendi and Filmmaker Sergio Arau Discuss Love and Mexico

A Look Inside the World of Sci-Fi Author and Publisher Sandra Desjardins