Helado Negro: Generation HispaNext of Latin Music?
What is Latin music? And, who is Generation HispaNext of Latin music? That is, who are those new and up-and-coming artists that will take the torches from those artists we consider classic and legendary? It's different things to different people even within the different variations of Latin culture and to and by Latin artists, themselves. To appreciate new artists, the view of what Latin music is needs to be expanded and expounded upon. Remixed and revisited. In a globalized world that becomes more and more global every micro-second, influences come from everywhere and anywhere.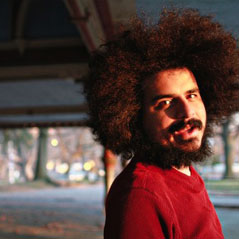 Helado Negro may very well be one of those artists taking a torch for himself. The son of Ecuadorian immigrants, he was raised in South Florida, and now creates music as a composer and sound artist in Brooklyn. Latin culture and music in his upbringing was, undeniably, an influence, but no artist wants to be solely defined by any singular set of influences. He has other experiences and influences that inspire his music.
Yes, there's a special orgullo when tu gente appreciate and support what you do, but, at the end of the day, music is music and people are people. And, all any artist, in his right mind, wants is to do is touch and move as many people as possible. Ladies and gentlemen, the Helado Negro Movimiento has begun and is in full effect.
Who or what is Helado Negro?
Helado Negro is me, Roberto C. Lange. It's music I mostly make solo and sometimes have collaborators.
How would you describe the Helado Negro sound?
The music itself circles improvisation and electronic music experimentation with pop tendencies. Most of the music has my voice as a counterweight to some of the unorthodox compositions and sounds.

Briefly name your other projects.
I collaborate with my friend Matt Crum in a duo called ROM [free improvisation with multiple instruments reworked over and over into new forms]. I've collaborated with Guillermo Herren in Savath and Savalas [Latin/psychedic/indie]. Currently, I finished a new project with [labelmate] Julianna Barwick called Ombre set to be released this year.

How is Helado Negro different from your other projects?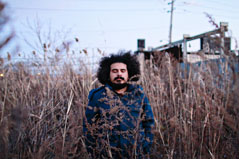 Helado Negro is different from the standpoint that I'm directing everything. The other projects have a split personality between myself and the collaborator.

Regarding the experimental nature of your music, do you face any issues of "authenticity" regarding your music from the Latin public? Or is that a non-issue?
It's a non-issue. The hope is to not let conditioning like that influence what someone wants to make.

When you hear the term Latin music what does it mean to you?
Latin music has a specific timeline for me. I was born with music sang in Spanish played in my house, while in a car driving, through loud speakers at parties, and heard on streets. It's become this ball of lots of things that seem to get redefined in my brain all the time.

Among Latin audiences, do you think there is a generational difference in how we relate to, interpret, and consume Latin music?
I think that's something that crosses over to any culture. Something new will always be misunderstood by most older generations. I think I have a tendency to be critical of newer music I don't understand. That also reflects consuming it as well. Records were this vehicle that transported music in one specific fashion. Now MP3s have brought music back to abstraction again – the idea of it not being represented by one object. That's how music should be…Not one single representation.

Who are some of your musical heroes?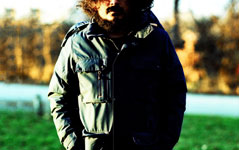 Singers: Nina Simone, Victor Jara, and Robert Wyatt
Guitarists: Luiz Bonfá and Jorge Ben [Jor]
Bassist: Bootsy Collins
Drummers: Bernard Purdie and Stevie Wonder
Electronic Composers: David Tudor and Cristoph Heemann
Classical Composer: John Adams
Non-Traditional Composer: Christian Marclay

How do you want to go down in musical history?
I hope to just be able to communicate all that's in my head and hope it's represented properly. Trying not to get to concerned with my own self-image, but more so just what the music represents.
Tell us about your latest EP.
The new EP is called Island Universe Story One and it's the first part of an infinite series I'm producing.

For a more detailed description of Island Universe Story One Helado Negro referred us to the write-up at his label's (Asthmatic Kitty Records) official site, which is written in both Spanish and English. To find out more about and to order Island Universe Story One click here.


HBO Latino Presents Romeo Santos Concert Special

Becky G Partners with Vevo to Premiere the Music Video for "Becky From The Block"

Mano a Mano: Baby Bash & Lucky Luciano

Jon Huertas – New Single "Ledge of Love"

Patricia Vonne Composes and Performs Music That Reflects Her Roots

On behalf of the Directors, Producers, Cast and Crew of "Filly Brown"

Interview with ALMA Award Winning Actress Michelle C. Bonilla


Austin Classical Guitar Society Presents Grammy Award-Winning La Guitar Quartet

Movie review for Ron Fricke's new film SAMSARA

Patricia on Patricia: An Interview with actress, Patricia Rae

HBO Latino Presents "PRÓFUGOS"

Ryan Guzman heats up the screen in Step Up: Revolution

Jorge Caballero and the Miró Quartet Join Forces in Austin Again

PH interview animator Antelmo Villarreal from Ice Age: Continental Drift

Dallas meets Dexter: A serial killer mix "maid" Latin style!

"Brave" animator and Popular Hispanic Ramiro Lopez Dau chats with PH!

Popular Hispanic of the Month: Darlene Caamaño Loquet

Award-Winning Actress Yareli Arizmendi and Filmmaker Sergio Arau Discuss Love and Mexico

A Look Inside the World of Sci-Fi Author and Publisher Sandra Desjardins

Popular Hispanic of the Month: Tiffany Perez

Paula Zuleta is mixing it up Colombian Style and Proud of It!

Sonia Marie De Léon de Vega Brings Classical Music to Latino Youth