"Brave" animator and Popular Hispanic Ramiro Lopez Dau chats with PH!
Popular Hispanics had the pleasure of interviewing animator Ramiro Lopez Dau from the upcoming Pixar film, Brave. Pixar is known for making films that have heart and resonate with young and old audiences. They have created unforgettable characters that we have instantly fallen in love with, like our favorite cowboy Woody and spaceman Buzz Light-Year from Toy Story. This summer they are taking us on another adventure, this time to Scotland in the animated feature, Brave.
The Story: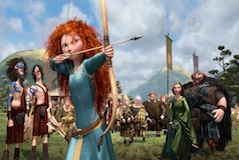 Brave is about Merida (Kelly Macdonald), a skilled archer and impetuous daughter of King Fergus (Billy Connolly) and Queen Elinor (Emma Thompson). She is determined to carve her own path in life and defies an age-old custom, sacred to the uproarious lords of the land. Merida's actions inadvertently unleash chaos and fury in the kingdom and when she turns to an eccentric old Witch (Julie Walters) for help, she is granted an ill-fated wish. Merida is forced to discover the meaning of true bravery in order to undo a beastly curse before it's too late.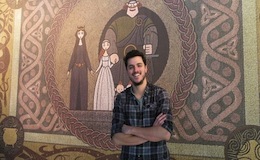 Ramiro was born in Argentina and moved to Spain when he was 8 years old. "Changing countries sometimes can be hard, but I think in the end it gives you more of an open mind to it," he said. On moving to the United States, he says, "For some reason the United States felt natural because of the movies. Everything just looks like a movie and everything sounds familiar."
When Ramiro was younger he wanted to make video games and started studying 3-D animation and discovered he could pursue it as a career. "I discovered filmmaking while I was studying animation and fell in love and it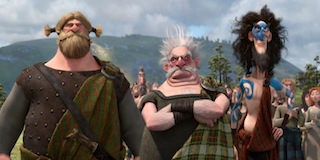 led me to my dream job at Pixar." He still stays true to his culture of Spain by bringing a little piece of it to the Pixar workplace such as Flamenco dancers and says that "we work hard, but we like to have fun too."
When he picks projects to work on, he says, "the most important part is the story, the story has to be good, I don't even care if I'm going to have fun on the animation or not, I want to know I'm going to be working on a movie I love."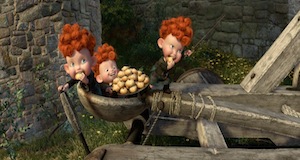 "Working with humans is always challenging," says Ramiro, "and finding a challenge is good and keeps you improving. I loved working with King Fergus since he's a huge character and he was so expressive that I had a lot of fun working with him in the action sequences." Ramiro urges PH readers to go and see Brave because "it's got everything, it has action, it has heart, it's a great story on adventure, the setting is stunning and beautiful and I think it's a classic Pixar movie." As far as what's next for Ramiro, he's already working on Monsters University, the prequel to 2001's Monsters, Inc., which is set to hit theaters next summer.
Go watch Brave in theaters, June 22nd!
Watch the trailer below:

THE HANGOVER PART III "Alan Mayhem Sized Poster" Sweepstakes


HBO Latino Presents Romeo Santos Concert Special

EPIC "Advanced Screening" Giveaway!

Becky G Partners with Vevo to Premiere the Music Video for "Becky From The Block"

Mano a Mano: Baby Bash & Lucky Luciano

Jon Huertas – New Single "Ledge of Love"

Patricia Vonne Composes and Performs Music That Reflects Her Roots

On behalf of the Directors, Producers, Cast and Crew of "Filly Brown"

Interview with ALMA Award Winning Actress Michelle C. Bonilla


Austin Classical Guitar Society Presents Grammy Award-Winning La Guitar Quartet

Movie review for Ron Fricke's new film SAMSARA

Patricia on Patricia: An Interview with actress, Patricia Rae

HBO Latino Presents "PRÓFUGOS"

Ryan Guzman heats up the screen in Step Up: Revolution

Jorge Caballero and the Miró Quartet Join Forces in Austin Again

PH interview animator Antelmo Villarreal from Ice Age: Continental Drift

Dallas meets Dexter: A serial killer mix "maid" Latin style!

Helado Negro: Generation HispaNext of Latin Music?

Popular Hispanic of the Month: Darlene Caamaño Loquet

Award-Winning Actress Yareli Arizmendi and Filmmaker Sergio Arau Discuss Love and Mexico

A Look Inside the World of Sci-Fi Author and Publisher Sandra Desjardins

Popular Hispanic of the Month: Tiffany Perez

Paula Zuleta is mixing it up Colombian Style and Proud of It!

Sonia Marie De Léon de Vega Brings Classical Music to Latino Youth