Popular Hispanic of the Month: Darlene Caamaño Loquet
"I just don't stop. When I put my mind to something and I believe in something, I don't give up until it happens."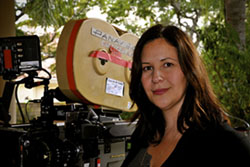 Darlene Caamaño Loquet is someone that doesn't let anything or anyone get in the way of her dreams and goals. With hard work, she's made quite the name for herself in the film industry. That is why we have chosen her as our Popular Hispanic of the Month.
Growing up in Los Angeles, California, Loquet didn't always know she was destined to be in the film industry. While in college at Azusa Pacific University, Loquet studied communication with an emphasis in journalism. Her aspiration at the time was to be a news reporter. She had the opportunity of interning for Rolling Stone and Univision, where she was hired as an assignment editor at KMEX Channel 34. There she realized that journalism was not her passion. At the advice of a professor, she took an internship at DIC, a company at Disney where she fell in love with film. This, she says, was the turning point in her life.
Since then, Loquet has been on the go working on films. She's worked at Trimark Pictures, Dreamworks, and New Line Cinemas, before co-founding her own management/production company, D-No Entertainment in 2001. There she helped manage writers and directors with a focus on Latinos/as.
So what stands out to her as a great movie? She tells PH, "There are great stories being told about gardeners and maids and I think those are entertaining and real stories, but at the same time, Latinos here in the U.S. are leaders. We are governors and mayors, we are attorneys, we are doctors, we are CEO's, and we are professional female executives. We are the American characters that are in stories that need to be told as well. At NALA we tend to gravitate towards uplifting, life affirming stories."
Today, Loquet works with NALA Films, where she is the COO and President of the company. Just recently, she produced Casa de mi Padre, starring Will Ferrell, Gael Garcia Bernal, Diego Luna, and Nick Offerman, a movie that she is extremely proud of.
As for her secret to success and goals for the future, she says, "I just don't stop. When I put my mind to something and I believe in something, I don't give up until it happens. I think that attitude has helped me a lot. I want to continue to make films that move people and affect their lives in a positive way."
With her successful career, we wanted to know what advice she would give young Latinos/as. "Find something in life to do that you love to do so that it's more of a life purpose than a job. I think it's so important to find a career that you wake up excited to do every day. Once you find that just stick to it, show as much integrity and skill as is in you and show up 120 percent."
Darlene is a leader who inspires, educates and never gives up. Popular Hispanics is always inspired by Latinas like Darlene, and we hope our readers are too. To learn more about her films, head to http://www.nalafilms.com/

JERSEY BOYS "Fan Pack" Sweepstakes


Classical and Flamenco Guitar & Austin

Mexican American Experience returns with Grammy-winning acts

RODRIGO SANTORO as Xerxes in "300: RISE OF AN EMPIRE"

WINTER'S TALE "Valentine's Day Prize Pack" Sweepstakes

SUPER BOWL HALF TIME SHOW PERFORMER BRUNO MARS IN RIO 2!

THE LEGO MOVIE: Advance Screenings

The influence of Hispanic music in the US

The Bobby Sanabria Grammy-nominated "Multiverse" Big Band At Americas Society: A Review

ENDER'S GAME: Movie Screening Promo for Guaranteed Seats

KLRU Celebrates Hispanic Heritage Month with special programming

The 7th Puerto Rican and Cuban Festival and First Carnaval Americas

2013 FESTIVAL PEOPLE EN ESPAÑOL

Meet Flamenco Dancer and Teacher, Pilar Andújar

RED 2 Screening: Only in El Paso & LA

HBO Latino Presents Romeo Santos Concert Special

Becky G Partners with Vevo to Premiere the Music Video for "Becky From The Block"

Jon Huertas – New Single "Ledge of Love"

Interview with ALMA Award Winning Actress Michelle C. Bonilla


Austin Classical Guitar Society Presents Grammy Award-Winning La Guitar Quartet

Patricia on Patricia: An Interview with actress, Patricia Rae

Jorge Caballero and the Miró Quartet Join Forces in Austin Again

PH interview animator Antelmo Villarreal from Ice Age: Continental Drift

Dallas meets Dexter: A serial killer mix "maid" Latin style!

"Brave" animator and Popular Hispanic Ramiro Lopez Dau chats with PH!

Award-Winning Actress Yareli Arizmendi and Filmmaker Sergio Arau Discuss Love and Mexico

A Look Inside the World of Sci-Fi Author and Publisher Sandra Desjardins