A Look Inside the World of Sci-Fi Author and Publisher Sandra Desjardins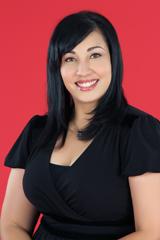 I recently had the chance to hang out with local Puerto Rican science fiction writer Sandra Desjardins at her latest book signing at the Mayborn Planetarium at Central Texas College. The warm and friendly author shared some details about her newest sci-fi novel, "Sleeper Cells", and her plans for a future project, entitled "Fugue". Sandra has been writing since a young age, and has recently founded her own privately owned publishing company, increasing her ability to reach a greater readership. Her publishing company, A Tale of Two Kitties, strives to entertain readers craving a "quirky supernatural romance." Yet her works are attractive to readers of all kinds, for she incorporates romance, action, and a feminist punch in her storylines. I had the chance to learn a little more about Sandra and her background in an interview before her book signing:
PH: Where did you grow up?
SD: I was born and raised in the Bronx, which I'm particularly grateful for because New York City is one of the greatest places on the planet, so it was an honor spending my childhood there. My mother worked hard to support us while she put herself through college, so my older sister and brothers took really great care of me and we shared some awesome adventures. We moved a lot, and my mother didn't want us playing outside because of the dangers that it presented, so I spent a lot of time reading and listening to music.
PH: Did an event or person from your childhood inspire you to write? If so, explain. If not, explain who/what initially inspired you to write.
SD: I sometimes think it sounds trivial when I say I was inspired to write out of boredom, but it's true! Growing up in the Bronx with two overprotective big brothers doesn't leave a girl much room to get into trouble, so I would sit in my room and daydream. As I got older, those daydreams started to morph into stories that I wanted to expand upon.

PH: When did you start to write?
SD: I started writing when I got into junior high school. I have always been a voracious reader, and I was born humming along to a beat because I love music, so my writing stemmed from those two passions. Music truly fills my soul because no matter the occasion, I can find a song to describe that particular emotion. I remember listening to songs that I loved over and over again, and I would think of backstories for whatever song I was listening to. It started out as something to help pass the time, but turned into something great.

PH: Was science fiction the first genre you wrote?
SD: Science fiction is my absolute favorite genre. However, as I've gotten more experience as a writer I started to venture toward similar genres, such as paranormal and fantasy, which totally fits my personality. I don't think I could ever write contemporary fiction, it's just not as exciting for me.

JERSEY BOYS "Fan Pack" Sweepstakes


Classical and Flamenco Guitar & Austin

Mexican American Experience returns with Grammy-winning acts

RODRIGO SANTORO as Xerxes in "300: RISE OF AN EMPIRE"

WINTER'S TALE "Valentine's Day Prize Pack" Sweepstakes

SUPER BOWL HALF TIME SHOW PERFORMER BRUNO MARS IN RIO 2!

THE LEGO MOVIE: Advance Screenings

The influence of Hispanic music in the US

The Bobby Sanabria Grammy-nominated "Multiverse" Big Band At Americas Society: A Review

ENDER'S GAME: Movie Screening Promo for Guaranteed Seats

KLRU Celebrates Hispanic Heritage Month with special programming

The 7th Puerto Rican and Cuban Festival and First Carnaval Americas

2013 FESTIVAL PEOPLE EN ESPAÑOL

Meet Flamenco Dancer and Teacher, Pilar Andújar

RED 2 Screening: Only in El Paso & LA

HBO Latino Presents Romeo Santos Concert Special

Becky G Partners with Vevo to Premiere the Music Video for "Becky From The Block"

Jon Huertas – New Single "Ledge of Love"

Interview with ALMA Award Winning Actress Michelle C. Bonilla


Austin Classical Guitar Society Presents Grammy Award-Winning La Guitar Quartet

Patricia on Patricia: An Interview with actress, Patricia Rae

Jorge Caballero and the Miró Quartet Join Forces in Austin Again

PH interview animator Antelmo Villarreal from Ice Age: Continental Drift

Dallas meets Dexter: A serial killer mix "maid" Latin style!

"Brave" animator and Popular Hispanic Ramiro Lopez Dau chats with PH!

Popular Hispanic of the Month: Darlene Caamaño Loquet

Award-Winning Actress Yareli Arizmendi and Filmmaker Sergio Arau Discuss Love and Mexico