Popular Hispanic of the Month: Tiffany Perez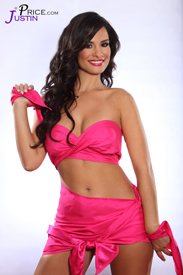 "Don't be afraid of pursuing your dreams and ambitions. If you fail just get up and try again. Pursuing your dreams is an incredible journey; with determination and belief you can accomplish anything!" –Tiffany Perez
Tiffany Perez is well on the road to success in today's entertainment industry. She has the ambition, drive, and passion to excel, with the talent and experience to match it. This is why we have chosen her as our Popular Hispanic of the month!
Born and raised in Miami, Florida, Perez attended The University of Miami where she graduated with a degree in both broadcast journalism and psychology. While studying at UM, she interned with Univision and was later offered a position as promotions assistant, where she gained experience in marketing and got a taste of what the television industry was all about.
Since graduating from UM, Perez has been on the go, from hosting events to doing charity work. She's worked at the CBS Miami affiliate and has covered events such as the Latin Billboard Awards, Pepsi Blue Carpet Bash, and Latin Grammys.
A major accomplishment for the young Latina was being offered the title of official spokesperson for 'The Chevrolet Red Zone Contest,' which aired on Miami's local CBS station. She is now the campaign manager at The Miami Herald & CEO founder of TiffanyOnAir.
Recently, Perez participated in 'Pink Ribbon Project,' a photo campaign for the Susan G. Komen for the Cure Miami/Ft. Lauderdale Affiliate in honor of National Breast Cancer Awareness Month. Pictures of her and nine other influential women wrapped in pink ribbon were unveiled at the event. Other notable participants were Kelly Saks (Miss Cuba 2011), Cristy Rice (Real Housewives of Miami) and Christina Bulnes (co-host on Telemundo).
Popular Hispanics is always inspired by people like Tiffany, and we hope our readers are too. To contact and/or learn more about her, head to http://tiffanyonair.com
Some fun facts about Tiffany: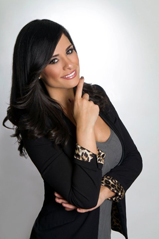 Inspiration: My mother, she is a single parent and has managed to go so far in her career. She is so positive and motivating and has always worked so hard to give me everything I need to make it.
Hobbies: Traveling, dancing, reading, horseback riding, singing, and Crossfit
Favorite Music Artists: Alicia Keys, Madonna, Sade, Juan Luis Guerra and Al Green
Favorite Actors: Julia Roberts, Selma Hayek, Audrey Hepburn, Andy Garcia, George Clooney and Will Ferrell
Favorite TV Shows: Will & Grace, Friends, Entertainment Tonight, and Project Runway
About photographer Justin Price
Celebrity photographer Justin Price possesses his own signature style of photography. With his photographs gracing the cover of some of the globe's largest magazines, Justin's use of vivid colors has made him highly esteemed among celebrities and top models.
The world-renowned photographer has worked with supermodels Joanna and Marta Krupa, rapper Rick Ross, top fashion model and TV host Donna Feldman and actress and model Amy Weber, to name a few.

GRUDGE MATCH "Prize Pack" Sweepstakes

The influence of Hispanic music in the US

The Bobby Sanabria Grammy-nominated "Multiverse" Big Band At Americas Society: A Review

ENDER'S GAME: Movie Screening Promo for Guaranteed Seats

KLRU Celebrates Hispanic Heritage Month with special programming

The 7th Puerto Rican and Cuban Festival and First Carnaval Americas

2013 FESTIVAL PEOPLE EN ESPAÑOL


Meet Flamenco Dancer and Teacher, Pilar Andújar


RED 2 Screening: Only in El Paso & LA

HBO Latino Presents Romeo Santos Concert Special

Becky G Partners with Vevo to Premiere the Music Video for "Becky From The Block"

Jon Huertas – New Single "Ledge of Love"

Interview with ALMA Award Winning Actress Michelle C. Bonilla


Austin Classical Guitar Society Presents Grammy Award-Winning La Guitar Quartet

Movie review for Ron Fricke's new film SAMSARA

Patricia on Patricia: An Interview with actress, Patricia Rae

HBO Latino Presents "PRÓFUGOS"

Jorge Caballero and the Miró Quartet Join Forces in Austin Again

PH interview animator Antelmo Villarreal from Ice Age: Continental Drift

Dallas meets Dexter: A serial killer mix "maid" Latin style!

"Brave" animator and Popular Hispanic Ramiro Lopez Dau chats with PH!

Popular Hispanic of the Month: Darlene Caamaño Loquet

Award-Winning Actress Yareli Arizmendi and Filmmaker Sergio Arau Discuss Love and Mexico

A Look Inside the World of Sci-Fi Author and Publisher Sandra Desjardins

Sonia Marie De Léon de Vega Brings Classical Music to Latino Youth