Sonia Marie De Léon de Vega Brings Classical Music to Latino Youth

Founded in 1992 and located in Los Angeles, California, Santa Cecilia Orchestra's mission is "through live performances and stimulating music education programs, to share the beauty and inspiration of classical music with Southern California audiences, giving special focus to Latino communities that are underserved and underrepresented by the arts." This is the only symphony orchestra in the United States that exists with this specific mission.
The woman behind the mission is Sonia Marie De Léon de Vega, who is the founder, director and conductor of Santa Cecilia Orchestra. De Léon de Vega's classical music training began when she was a child. At the age of four she and her family moved from San Antonio, Texas to Echo Park, a neighborhood northwest of downtown Los Angeles and southeast of Hollywood. Echo Park is known for historically having a large Latino population with lower-than-average household incomes, as well as having a significant population of the creative and working class. Although De Léon de Vega's school in Los Angeles did not have a music program, she was fortunate that her mother gave her piano lessons, and both her mother and her mother's friends took her to attend concerts.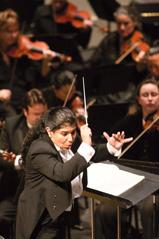 The "power and beauty that music had in my life," she says, is what inspired her to "want to bring it back to the community." De Léon de Vega's muse as a musician, conductor and educator is deeply rooted in her personal experience. In addition to being a pianist and organist, she also trained at the Herbert Blomstedt International Institute for Instrumental Conductors and at various American Symphony Orchestra League workshops with Otto Werner Mueller, Maurice Abravanel, Pierre Boulez, Andre Previn, Zubin Metha and Ricardo Muti.
Because of De Léon de Vega's desire to share her passion for classical music, particularly with those who do not have easy access, she started the Discovering Music Program in 1998, serving schools with limited or no music programs. Each year, thousands of children are introduced to classical music and instruments. Professional musicians go into individual classrooms and have direct contact with the students as teachers and role models. There are 80 musicians in the Santa Cecilia Orchestra, and 24 of these musicians are involved with the outreach program.

The influence of Hispanic music in the US

The Bobby Sanabria Grammy-nominated "Multiverse" Big Band At Americas Society: A Review

ENDER'S GAME: Movie Screening Promo for Guaranteed Seats

KLRU Celebrates Hispanic Heritage Month with special programming

The 7th Puerto Rican and Cuban Festival and First Carnaval Americas

2013 FESTIVAL PEOPLE EN ESPAÑOL


Meet Flamenco Dancer and Teacher, Pilar Andújar


RED 2 Screening: Only in El Paso & LA

HBO Latino Presents Romeo Santos Concert Special

Becky G Partners with Vevo to Premiere the Music Video for "Becky From The Block"

Jon Huertas – New Single "Ledge of Love"

Interview with ALMA Award Winning Actress Michelle C. Bonilla


Austin Classical Guitar Society Presents Grammy Award-Winning La Guitar Quartet

Movie review for Ron Fricke's new film SAMSARA

Patricia on Patricia: An Interview with actress, Patricia Rae

HBO Latino Presents "PRÓFUGOS"

Jorge Caballero and the Miró Quartet Join Forces in Austin Again

PH interview animator Antelmo Villarreal from Ice Age: Continental Drift

Dallas meets Dexter: A serial killer mix "maid" Latin style!

"Brave" animator and Popular Hispanic Ramiro Lopez Dau chats with PH!

Popular Hispanic of the Month: Darlene Caamaño Loquet

Award-Winning Actress Yareli Arizmendi and Filmmaker Sergio Arau Discuss Love and Mexico

A Look Inside the World of Sci-Fi Author and Publisher Sandra Desjardins

Popular Hispanic of the Month: Tiffany Perez