Young Latino Artists 16: Thought Cloud & Serie XVIII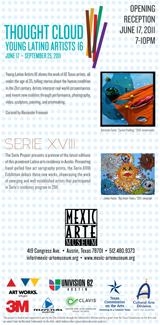 Young Latino Artists 16: Thought Cloud & Serie XVIII
Members' Opening Reception
June 17, 2011, 7-10PM
Exhibition continues through September 25th
Young Latino Artists 16 shows the work of 10 Texas artists, all under the age of 35, telling stories about the human condition in the 21st century. Artists interpret real world circumstances and invent new realities through performance, photography, video, sculpture, painting, and printmaking.
Curated by Alexander Freeman.
Serie XVIII
The Serie Project presents a preview of the latest editions of this prominent Latino arts residency in Austin. Presenting hand-pulled fine art serigraphy prints, the Serie XVIII exhibition debuts these new works, showcasing the work of emerging and well-established artists that participated in Serie's residency program in 2011.
Members Free / $5 General Admission

Expectations high for next Xbox

Google working on a media player

Austin Outdoor Design: Where Design Meets Character


Serie Project Reaches Twenty Years and Hopes for a New Beginning

Austinites Play in the Heat to Replace Marbridge's "Old Green Gym"

Project Paz's Goal is Promoting Peace in the Border City of Ciudad, Juarez

Verizon Introduces Bilingual Facebook and Twitter sites, "Somos Verizon FiOS," "@SomosFiOS" as a New Marketing campaign geared toward the Hispanic Demographic

The 31k project (31,000 Portraits for Peace)

Bag It: New Film Shows the Dangers of Plastic to the Earth and Our Bodies

Talavera Tile: More Than Just a Tile, It's a Work of Art

Should you Consider Tax Swaps in your Investment Portfolio?

Colors on Clay: Pottery of San Antonio

Upbeat Hispanic Consumers Played an Important Role in the Economy This Past Holiday Season

PopularHispanics: An online launch eyes a print extension

Establishing a Business Retirement Plan: Options for Business Owners and the Self Employed

10 Top Reasons to Watch "The Jersey Shore"

Jay B. Sauceda is a Photographer

Featured Photographer: Juan Carlos Gonzalez