Establishing a Business Retirement Plan: Options for Business Owners and the Self Employed

Many business owners solely rely on the sale of their businesses for retirement income, adding to the risk in their business endeavors. As evidenced during this current recession, business closings and bankruptcies are on the rise and many business owners are seeking additional ways to secure for their retirement.
The benefits of starting a retirement plan for business owners not only includes helping secure and accumulate enough money to one day retire, but also includes the benefits of saving on personal and business taxes through deductions. Additionally, offering a retirement plan will contribute to the recruiting and retaining of savvy employees.
According to the Small Business Administration's Office of Advocacy report, more than nine million self employed individuals do not have any retirement plan coverage, fewer than 2% of business owners had a Keogh plan (self employment retirement plan), only 18% participated in a 401(k) plan, and being of Hispanic origin substantially reduces the probability of a business owner having an Individual Retirement Arrangement (IRA). Fortunately, business owners are in a unique position to take advantage of retirement plan options that further their capability to take control of their financial destiny.
A Business Owners Many Options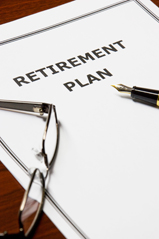 While the first steps of researching and deciding on a retirement plan may be overwhelming, as a business owner, you have the flexibility to choose from several retirement plan options and select the one that best fits your specific needs. The plans available vary in their features, benefits, and limitation requirements, including whether employees may participate, how much money can be contributed by both the employer and employee, the percentage employers must make on behalf of their employees (if any), the deadline for making or depositing contributions, along with the complexity of administering the plan.
When selecting the retirement plan option that best fits your specific needs, a small business owner should consider both their financial and business circumstances. For example, if you have recently launched a business or have a business where income greatly fluctuates, having a retirement plan in place where contributions are discretionary or not required to be made during a given year, such as a profit sharing plan, will provide your business with some flexibility as economic conditions deem necessary. Another example is a landscaping business or other business with a high employee turnover rate. In this case a plan that includes a vesting schedule will ensure employees work for a specific amount of time before they are able to leave your company and take their contributions with them, such as a 401(k) plan or a profit sharing plan.
To help simplify the process of researching and selecting a retirement plan, following are descriptions of plans available and how they compare and contrast.


Hispanics Leading La Vida Wired

The ABCs and Ñ of America's Cultural Evolution