Popular Hispanic of the Month: Tito's Vodka – Living the Handmade Dream
How do you handle the stress and pressure of running a business?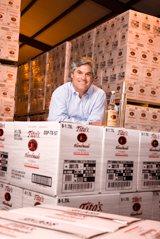 People handle stress in two different ways – some people just sit there and deal with the things that they can deal with and others come up with a plan and keep on going. It's ok to make a mistake, because you're going to make mistakes along the way. I made a ton of them! The main thing is that you have to make a decision.
If you don't make a decision, that's a decision all on its own. And if you make a bad decision, acknowledge it's a bad decision, make another decision, and keep on going. The good thing about business is that a lot of it is repeatable. Once you've made mistakes, then you don't make those same mistakes again, you make new ones. And when I did, I would sit there and say, "That was a good one!"
Can you share any thoughts looking back to when you first started?
Thank God for unanswered prayers because had I been able to raise money early on, I would have been kicked out of this company a long time ago. Now it's ended up that I own 100% of it. I don't have to take any crap from anybody. I get to do whatever I want, when I want. I get to come up with an idea and just do it. It's so nice. Plus, I get to run it however I want and hire whoever I want.
One of the best lessons is that you have to have faith. Whenever something doesn't work out the way you think that it will, there's a reason why. There's a bigger, greater thing coming your way, and it is the reason why it didn't work out. That's the biggest thing that I've learned.
Any advice that you would give to a new entrepreneur, especially someone who came up to you and said, "I have this idea but no one believes in it." What would you tell that person?
First of all I would ask, "Is it something that you love to do and is it something that you are good at?" If they say yes I would say, "Then just go do it. If you can't get any money, go do it anyway. Go do it on a small scale. Make you're big business plan and if you don't get any money then just scale it down and do it on a level that is manageable that you can do by yourself. If you screw up and make mistakes along the way, then just learn from it and keep moving." Entrepreneurs are people that are doers and you can't be fearful that you are going to make a mistake because if you go out and go do something enough, I promise you, you are going to make a lot of mistakes.
One of the greatest things I ever learned was "La Lucha" (Spanish for struggle and/or the fight). Life is like this wrestling match. Some days you're up on top, some days you're down on the bottom, some days they're pounding you, but you get up the next day and you do it again, because that's what we do!
In 2010 Tito's Handmade Vodka partnered with Gibson Guitar and the Archiving and Preservation Programs of the GRAMMY Foundation on a series of music events. Can you tell us more about this partnership?
I'm a big supporter of charities and we do a lot of work with charities throughout the country. I'm also a big supporter of artists, musicians, photographers, theatre, actors, actresses, and all the creative types. I love all the arts and I love music. We have partnered with Gibson on a series of music events. Our first stop was in Beverly Hills on June 30, 2010, where we had a recording station set up for guests to create their own music. We also hosted a Tito's Handmade session events in Gibson Guitar showrooms around the country.
Currently the Austin-based maker of award-winning craft-distilled vodka has announced a new partnership with the Future of Music Coalition (FMC), a national organization that works to ensure a diverse musical culture where artists flourish, musicians are compensated fairly and fans find music they want. Tito's has selected FMC to receive the proceeds of a new fund drive where Tito's will donate up to $10,000 in support of American musicians and a flourishing music culture.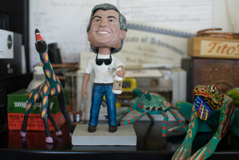 With his charisma, spirit, and determination to succeed, it is no wonder Tito is a true success in distilling his handmade vodka. Putting life into perspective and never taking "No" for an answer are just a few of the reasons why this businessman and his vodka have been given a page in Texas history.
To learn more about Tito's vodka and their philanthropic ventures, visit the links below.
Visit Tito's Handmade Vodka at: titosvodka.com
Check out the video on his distillery here: titosvodka.com/videos

Feeling at Home with Amelia Morán Ceja of Ceja Vineyards

Vino es Vida with Ramon Sandoval

What Journey Has Your Food Been On

"Saborea Uno Hoy" Campaign Recipes by Malena Perdomo

Honey – Natural Energy for the New School Year!

¡LATIN FOOD FEST! Announces Its 2013 Grand Tasting Program

Where's the Beef: A Summer Grilling Fiesta


Cooking From the Heart: Alma Alcocer-Thomas – El Alma Café & Cantina

This Cinco de Mayo Celebrate with Some Tasty Recipes



Spanish Spaghetti by Mel's Meals

Cooking and Eating Guilt-Free Meals

Delicious Empanada Recipes from Muy Bueno Cookbook!

Take the Tequila Tour at Iron Cactus in North Austin

A Visit to the Four Point 0 Wine Cellars

Mel's Meals Helps Austin Eat Well

Junior Merino's Refreshing Drink Recipes

Polvorones, Capirotadas, and Piggies!

It's All Good for Tom Gilliland Co-owner of Fonda San Miguel

You're never too Young… to Cook Flan


Chipotle Shrimp Tacos by Executive Chef José Bossuet Martínez


Cantina Beach Trio of Ceviches

Tequila 101: Sombreros Off to Casa Herradura

Garlic Shrimp - Recipe courtesy of Executive Chef Jose Garces