It's All Good for Tom Gilliland Co-owner of Fonda San Miguel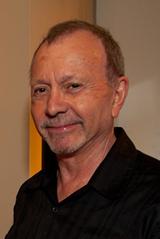 Tom Gilliland is perhaps the last person you'd think would own a very well known interior Mexican restaurant. He isn't Hispanic; he studied law, and grew up in Nebraska. Many may wonder, "What would this man know about Mexican cuisine?" The answer to that is clearly shown in the delicious specialties offered at Fonda San Miguel, one of Austin's oldest and most renowned Mexican restaurants.
When Tom moved to Austin to attend the University of Texas, he had all the intentions of one day becoming a lawyer. But then he met Chef Miguel Ravago, and his life took an extremely different path. His partnership with Ravago began with San Angel, their first restaurant, which opened in Houston. They then relocated to Austin in 1975, and the now 35-year-old Fonda San Miguel was born.
Amidst the Mexican art and incredibly detailed murals on the wall, Tom Gilliland and I sat down to talk about the history of this amazing place.
What has changed since Fonda San Miguel first opened its doors 35 years ago?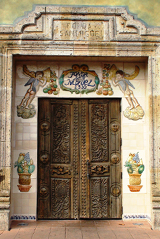 It has definitely evolved. Fonda first started as interior Mexican, even though the term wasn't coined back then. When we first started, people didn't know what to make of the menu. We had to struggle to get several ingredients. We had no black beans! We had to have them shipped. Some people questioned us and didn't know what we were about. Some straight out didn't like us.
Thankfully, the public's understanding and palates have improved since then. We tried to do regional dishes with available ingredients correctly, and began to pioneer this type of Mexican food. We have, however, stayed close to the core of the restaurant throughout the years. We have many regulars who are second and third generation Fonda San Miguel patrons.
Does the artwork influence the food?
I hope my chefs are inspired! The history behind the artwork here is a long one. We renovated the whole place, with me in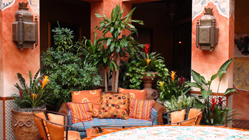 charge of buying art since I don't cook. Throughout the years, we have created an amazing collection.
All the art has been purchased in a haphazard way, almost serendipitously. I usually end up getting lost during my travels, but in this way I discover an artist or gallery by chance. We rotate the art often. There's twice as much in storage! It is ever changing. I had to slow down my purchases because we ran out of wall space.
If one is lucky enough to get a full tour of Fonda San Miguel, you will inevitably stumble across the large organic garden. I asked Tom why they decided to begin growing their own produce:
We did it for a combination of reasons. We were inspired by Eastside Café, which has its own garden. The property next door was basically a parking lot, and at first we wanted to add a party room there. Eventually, we decided against it.
We decided on a garden to let the neighborhood "breathe" a little. The learning process is hit and miss; we are learning what will grow, and how much of it. This past year we grew cilantro herbs, huazontle and watermelons, which turned out amazing. We actually have the Silver Coin margarita here, which is made with watermelons straight from our garden, and people just love it.
Do you struggle to show what "real" Mexican food is like, seeing as there are so many Tex-Mex places in Austin?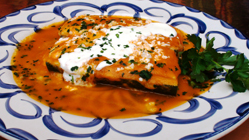 Yes, when we first started this was definitely the case. Now, what's happened is that more restaurants have opened as interior Mexican or a combination blended with Tex-Mex. I would describe Fonda San Miguel as interior and coastal.
Mexican is a fusion among many centuries and countries including Africa, Spain and France. But we don't struggle against Tex-Mex at all. Austinites understand that there is a distinction. We strive on being a good restaurant. We don't want to compare; we just want to be good at what we do.
What ingredient or food can you NOT live without?
I couldn't live without some of the types of dried chiles, especially chipotle. I love it and everything it's put in. The best thing about it is its variety. You can use it with all meats; it's a terrific seasoning. Achiote is another one. I can't really describe how it tastes. It is usually a paste applied as a marinade, but it is hard to describe its flavor.
What few ingredients do you think are the heart of Mexican cuisine?
Chiles are very important. Spiciness is key. Corn is a major staple, maza especially. Mexican food is local, indigenous. What is in the area is what people are going to eat.
For example, flour, cheese, and beef is typical northern Mexican food because that is what is available. But the tortilla's place in the world of Mexican food cannot be ignored. Miguel's grandmother was the inspiration for our tortillas; she would put a little lard in them. They've always been handmade here at Fonda.
If you could feed one dish to every customer, what would it be?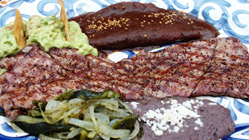 Well, it depends on the person. The carne asada Tampiqueña is one of our signature dishes. We use filet mignon and then butterfly it. "Tampiqueña" is essentially a combo plate with rajas and poblano peppers. We also have terrific seafood -- especially ceviche.
For vegans, I would suggest the stuffed zucchini squash, which has been on the menu since day one. As for dessert, if I were requesting my last meal, it would be the crepas de cajeta with almonds. Cajeta is basically goat's milk, and it tastes like butterscotch, but richer. Then, we top it all of with homemade cajeta ice-cream. Since the beginning, it was an instant hit.
What was your favorite Hispanic dish as a child?
I had no Mexican food as a child in Nebraska. When we would visit our grandparents in Dallas, they would take us to a Tex-Mex restaurant, and I loved it. One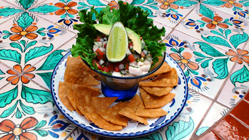 summer, while at UT Law, I did an interchange to UNAM (Universidad Nacional Autónoma de México), and spent the whole summer in Mexico City.
There, I discovered what Mexican food really was. It forever changed my perspective on Mexican food, and I never thought of it in a singular way again. We opened Fonda San Miguel soon after that.
What feeling do you want your customers to walk out with?
Happy and that they've had a total experience. Good food and good service. And give them a wonderful atmosphere to let them forget their troubles. I want them to feel like they're in Mexico, in San Miguel de Allende. I want them to leave feeling that the time they've been here has been worth it and unique. The total feeling is what we want.
At the end of our interview, Tom ended our conversation with a very interesting anecdote on his theory of why he connects so well with the Mexican culture and food:
"I found out that I was conceived in Mexico City; my parents went there on their honeymoon! I figured it out by going through my parents' photo albums, notes, and telegrams from the mid-1930s. I did the math.
I truly believe that this is why I have always had such an incredible attraction and chemistry with Mexico and its people. There is nothing else in my background that would explain it. I really do believe in that kind of thing."
For reservations and information visit: FondaSanMiguel.com

Feeling at Home with Amelia Morán Ceja of Ceja Vineyards

What Journey Has Your Food Been On

"Saborea Uno Hoy" Campaign Recipes by Malena Perdomo

Honey – Natural Energy for the New School Year!

¡LATIN FOOD FEST! Announces Its 2013 Grand Tasting Program

Where's the Beef: A Summer Grilling Fiesta


Cooking From the Heart: Alma Alcocer-Thomas – El Alma Café & Cantina

This Cinco de Mayo Celebrate with Some Tasty Recipes



Spanish Spaghetti by Mel's Meals

Cooking and Eating Guilt-Free Meals

Delicious Empanada Recipes from Muy Bueno Cookbook!

Take the Tequila Tour at Iron Cactus in North Austin

A Visit to the Four Point 0 Wine Cellars

Mel's Meals Helps Austin Eat Well

Junior Merino's Refreshing Drink Recipes

Polvorones, Capirotadas, and Piggies!

Popular Hispanic of the Month: Tito's Vodka – Living the Handmade Dream

You're never too Young… to Cook Flan


America, A Nation of Tequila Lovers

Chipotle Shrimp Tacos by Executive Chef José Bossuet Martínez


Cantina Beach Trio of Ceviches

Tequila 101: Sombreros Off to Casa Herradura

Garlic Shrimp - Recipe courtesy of Executive Chef Jose Garces