You're never too Young… to Cook Flan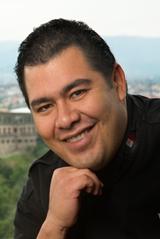 To say that Executive Chef Jose Bossuet Martinez is an accomplished chef is quite the understatement. At only twenty-five, he became the youngest member of the elite Club des Chefs, as well as being the first one to come from Mexico. Three years ago, he was awarded the Global Quality Foundation Award for overall excellence, and since 2010 has been the executive chef for the AAA Four Diamond Award-winning hotel Fiesta Americana Grand Chapultepec in Mexico City. But probably his most notable achievement was being ex-President Vicente Fox's personal chef. Here, he shares with us a little bit on how his cooking has been inspired by his Mexican upbringing, his personal favorite dishes and ingredients, and gives us an insider's look on what a day in the life as a President's chef would entail.
Can you tell us what inspired you to become a chef?
I have an innate connection to the kitchen. When I was a child in Chiapas, I fell in love with the aromas and flavors that arose from my grandmother Julia's cooking. Even today, my favorite dish remains "El Cochito," a baked pork dish from Chiapas. Before it is cooked, the pork is marinated in chile chimborote (a dried chile from the Zoque region), pineapple and spices such as pepper, cayenne and cinnamon.
How did it feel to be the first Mexican member of the Club des Chefs?
It was fantastic. I am very proud of that achievement. So far I'm the only Mexican to join this distinguished group and, in addition, I was accepted when I was only 25. Since then, no younger chef has been admitted to this club. The closest was the chef to the King of Norway, [who] joined at the age of 32.

Feeling at Home with Amelia Morán Ceja of Ceja Vineyards

What Journey Has Your Food Been On

"Saborea Uno Hoy" Campaign Recipes by Malena Perdomo

Honey – Natural Energy for the New School Year!

¡LATIN FOOD FEST! Announces Its 2013 Grand Tasting Program

Where's the Beef: A Summer Grilling Fiesta


Cooking From the Heart: Alma Alcocer-Thomas – El Alma Café & Cantina

This Cinco de Mayo Celebrate with Some Tasty Recipes



Spanish Spaghetti by Mel's Meals

Cooking and Eating Guilt-Free Meals

Delicious Empanada Recipes from Muy Bueno Cookbook!

Take the Tequila Tour at Iron Cactus in North Austin

A Visit to the Four Point 0 Wine Cellars

Mel's Meals Helps Austin Eat Well

Junior Merino's Refreshing Drink Recipes

Polvorones, Capirotadas, and Piggies!

Popular Hispanic of the Month: Tito's Vodka – Living the Handmade Dream

It's All Good for Tom Gilliland Co-owner of Fonda San Miguel


America, A Nation of Tequila Lovers

Chipotle Shrimp Tacos by Executive Chef José Bossuet Martínez


Cantina Beach Trio of Ceviches

Tequila 101: Sombreros Off to Casa Herradura

Garlic Shrimp - Recipe courtesy of Executive Chef Jose Garces