Sweet and Caliente, Yet Cool
Who would have figured that chocolate, chile, beer and ice cream would be a perfect dessert combo? The folks at the Mexican beer mogul, Bohemia, apparently did. They have joined forces with renowned Chef Rick Bayless, whose passion for Mexican cuisine aligns perfectly with Bohemia's purpose. Just in time for the summer months, Bayless has created an ice cream recipe for adults, which is sure to enhance the flavor of any party. We thought our readers might appreciate learning how to make it at home, so be prepared to give cerveza a whole new meaning. Try out the deliciously caliente recipe for yourself and tell us what you think!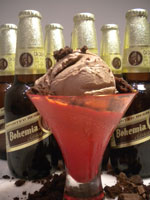 Chocolate Chile Bohemia Ice Cream
1 large pasilla negro chile, stemmed, seeded, deveined
1 1/3 cups half-and-half
2 ounces Mexican chocolate, chopped into small pieces
3 ounces semi-sweet chocolate, chopped into ¼-inch pieces
4 egg yolks
½ cup sugar
1 1/3 cups heavy (whipping) cream
1 1/2 teaspoons pure vanilla, preferably Mexican
1/4 cup Bohemia beer
In a small skillet heated over medium, toast the chile, pressing it flat against the skillet with a metal spatula until it is very aromatic—about 10 seconds per side. Place in a small saucepan and add the half-and-half, Mexican chocolate and the semi-sweet chocolate; heat over medium until steaming (but not boiling). Remove from heat. Cover and let steep for 10 minutes, then pour into a blender jar and process until the chile is completely pureed.
1. Set up a 4-quart saucepan, filled halfway with water, into which you can nestle a 3-quart stainless steel bowl. Bring the pot of water to a boil over high heat while you're preparing the custard base. Reduce the temperature under the pot of boiling water to maintain a gentle simmer.
2. In the 3-quart stainless steel bowl, whisk together the egg yolks and sugar until thoroughly combined, then whisk in the chile-infused chocolate mixture. Set the bowl of custard base over the simmering water and whisk frequently, scraping down the sides of the bowl regularly with a rubber spatula, until the mixture thickens noticeably, about 5 minutes. The custard is sufficiently cooked when it reaches 180 degrees on an instant-read thermometer. (You can also test it by dipping a wooden spoon into the custard, then running your finger through the custard: if the line holds clearly, the custard has thickened sufficiently.) For the finest texture, strain the mixture through a fine sieve into a clean bowl.
3. Fill a large bowl halfway with ice. Nestle the bowl of strained custard in the ice bath. Whisk the mixture until it is completely cool. Refrigerate if not using immediately.
4. Stir the heavy cream, vanilla and Bohemia into the base. Freeze in an ice cream freezer according to the manufacturer's directions. Scrape into a freezer container and freeze for several hours to firm.
Yes, we know that you are either in the process of completing or have completed the "Buff-Beach Boot Camp" for the summer. So work hard, but remember to have fun and don't be afraid to be naughty, go indulge in a cool yet muy caliente Chocolate Chile Bohemia Ice Cream.
Saludos,
Please feel free to share your experience with us! The good, the bad or the ugly!

Feeling at Home with Amelia Morán Ceja of Ceja Vineyards

What Journey Has Your Food Been On

"Saborea Uno Hoy" Campaign Recipes by Malena Perdomo

Honey – Natural Energy for the New School Year!

¡LATIN FOOD FEST! Announces Its 2013 Grand Tasting Program

Where's the Beef: A Summer Grilling Fiesta


Cooking From the Heart: Alma Alcocer-Thomas – El Alma Café & Cantina

This Cinco de Mayo Celebrate with Some Tasty Recipes



Spanish Spaghetti by Mel's Meals

Cooking and Eating Guilt-Free Meals

Delicious Empanada Recipes from Muy Bueno Cookbook!

Take the Tequila Tour at Iron Cactus in North Austin

A Visit to the Four Point 0 Wine Cellars

Mel's Meals Helps Austin Eat Well

Junior Merino's Refreshing Drink Recipes

Polvorones, Capirotadas, and Piggies!

Popular Hispanic of the Month: Tito's Vodka – Living the Handmade Dream

It's All Good for Tom Gilliland Co-owner of Fonda San Miguel

You're never too Young… to Cook Flan


America, A Nation of Tequila Lovers

Chipotle Shrimp Tacos by Executive Chef José Bossuet Martínez

Cantina Beach Trio of Ceviches

Tequila 101: Sombreros Off to Casa Herradura

Garlic Shrimp - Recipe courtesy of Executive Chef Jose Garces