Marcella Echavarria Defines Luxury through Design, Fashion, and Sustainability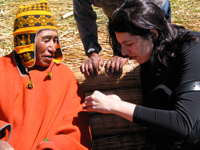 Meet Marcella Echavarria, the face behind SURevolutio,n a brand name with a purpose and a mission. Popular Hispanics sat down with Marcella to talk about her company, her passion, and her heritage.
While interviewing Marcella we found her accomplishments with her handmade home décor and jewelry line of products to be truly remarkable.
We discover her passion for people and her obsession with creating a better world through preserving heritage expressed in materials. SURevolution is a brand that helps small businesses set up sustainable economies by bringing handmade goods from Columbia, Bolivia, Ecuador, Peru and India. It's a brand that takes the spirit of the artisan world to the upscale market. Everything is handmade and the products embrace cultural and ecological meanings.
In 2008 SURevolution was recognized by the Secretary of State's Award for Corporate Excellence for the inclusion of 450 indigenous wayu and wacoyo families and 1000 ex-guerrilla and paramilitary in their artisan program.
What has inspired you to create a company that both helps those who are impoverished and creates a need in the fashion market?
What has inspired me is the possibility that the worlds of fashion and sustainability can co-exist precisely as a principle of sustainability, permanence and the possibility of preserving cultures in a world dominated by the markets.
How has SURevolution helped women in South America in their daily lives?
In many ways: from elevating their self worth as artists and artisans to having a direct impact in their daily lives; they get a fair income and a market for their goods
Who has been your greatest influence?
My mother has been my inspiration as an artist, a human being and as someone committed to preserving cultures and traditions
What is your vision and ultimate goal for your company?
To really prove with numbers and scale that sustainability and fashion can indeed coexist.
What is your latest and greatest favorite design?
I just came back from Swaziland and I am obsessed with the beautiful craftsmanship of companies such as Gone Rural and Rose Craft.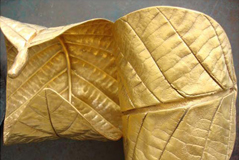 Design can be intimidating, especially when it's new and unexpected. How do you make your products and designs accessible to people?
We make them accessible by working closely with people's context: the land, the landscape, the colors, textures and materials that surround them, by allowing the artisans to rediscover their essence, their spirit and their strength.
Judging from her passion to create beautiful and sustainable products, you can expect great things to come from Marcella, SURevolution and their artisan partners in the foreseeable future. If you would like more information please visit www.SURevolution.com

Penelope Cordoba Making a Comeback at the Mercedes Benz Swim Fashion Week

Creating Couture Fashion From Recycled Fabrics


Young & Fabulous Fashion Show Benefiting Dell Children's Medical Center

Designer Teresa Valenzuela Basa: Inspired by Life and Born to Design

Austin Fashion Week Runways & Marketplace

Spanish Model Agueda Lopez Looks to Spice Things Up in Miami

Linda Asaf: Austin's fashion insider

This Spring, Enjoy Being a Girl

Transition into Spring with L'Oreal Paris: Combining the Latest Innovative Technology and Quality


Darphin Wrinkle Corrective Eye Contour Cream