Two Eyes Wide Open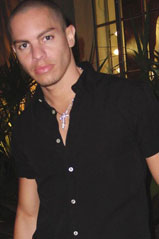 With very little sleep, celebrity photographer and talent agent Manny Roman manages to keep one eye in the camera and the other eye scouting for new talent, find out how he does it.
Tell us a little about your background and your Hispanic heritage.
I was born and raised in Miami, Florida to Puerto Rican Parents. My grandparents are Taino Indian de Puerto Rico, with Mulatto and Spaniard roots.
What are your biggest inspirations, photography or otherwise?
I have many lol. I plan on opening up my own photography gallery in the future. I just want to continue to take great photos and live a healthy happy life with those I love.
Describe your ideal day.
My ideal day would start off by waking up to a beautiful day in Corsica with my partner, followed by an amazing breakfast. Afterwards take a refreshing swim, than off to capture details of the island through my camera lens and finish off the day by getting sun kissed.
What magazines have your work has appeared in?
My work has appeared in ELLE Portugal, Fashion Times, Latino Boys, Night, GIOIA, and Z!NK.
What has been your most illuminating experience?
Although I have had many great experiences to this point in my life, I still think there is something more WOW waiting for me. My dream is to one day photograph Monica Bellucci for a celebrity profile cover & story for Italian Vogue. I love her beauty.
You shoot a lot of Celebrities that includes an extremely diverse range of subjects: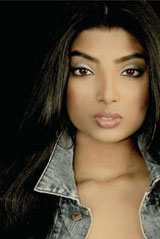 Supermodel Cindy Taylor - Paraguay
Supermodel Brandi Quinones - Puerto Rican / Sicilian
Top Latin Model /TV Host -Leonardo Corredor - Venezuelan
Playboy's Millennium Playmates - Carol & Darlene Bernaola - Peruvian
Top Model Penelope Sosa - Venezuelan
Top Model Raquel Balencia - Spaniard
Top Model Sharon Luengo – Venezuelan
Who do you think has been your most interesting subject?
From that list it would have to be Raquel Balencia. She moves like a snake. She is completely aware of her body and exudes confidence. My all time current favorite model that I have worked with is Beatrice Chirita; never a bad photo shoot with her.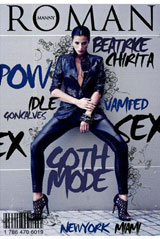 Other established subjects that I have photographed:
Anchal Joseph - Top Model / Actress
CariDee English - America's Next Top Model Winner 7
Dominique Reighard - Modelville Winner
Beatrice Chirita - Romanian Supermodel
Francky L'Official - Celebrity Hair Stylist
Glenn Packard - Celebrity Choreographer
Sheena Sakai - Top Model / Singer
Camille McDonald - America's Next Top Model Finalist
April Wilkner - Top Model / Actress
Sara Racey-Tabrizi - Top Model / Actress
What is your most recent shoot?
I just shot this new face I discovered (Prince Xtravaganza).
Tell us about your studio where you work.
I do very little studio work, not my favorite environment to work in. So I shoot a lot of my work on location where there is more to the photo... a story, depth, and emotion along with my subjects.

Penelope Cordoba Making a Comeback at the Mercedes Benz Swim Fashion Week

Creating Couture Fashion From Recycled Fabrics


Young & Fabulous Fashion Show Benefiting Dell Children's Medical Center

Designer Teresa Valenzuela Basa: Inspired by Life and Born to Design

Spanish Model Agueda Lopez Looks to Spice Things Up in Miami

Linda Asaf: Austin's fashion insider

This Spring, Enjoy Being a Girl

Transition into Spring with L'Oreal Paris: Combining the Latest Innovative Technology and Quality


Darphin Wrinkle Corrective Eye Contour Cream