A Latino in the White House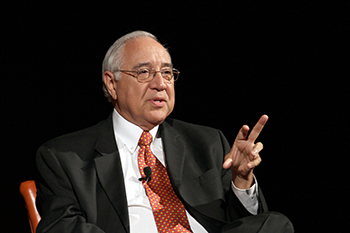 David Valdez used to capture a sitting president's every move, putting him in the company of world and military leaders, kings and even the Pope.
It was a whirlwind life, traveling to 75 countries with President George H.W. Bush as his official photographer.
Valdez is the only Latino ever to hold the coveted post.
High cotton for a boy from Alice, Texas.
His life has come down from those rarefied heights, but Valdez still carries his Nikon camera or iPhone to pursue his passion for photography. "It's in here," Valdez says placing his hand to his chest. He can't help but explore Georgetown, where he resides with wife Sarah Jane and where he finds sunsets, fields of bluebonnets and old buildings as worthy subjects. He's still driven to take photos of what in someone else's hands might seem mundane, and to take candid shots -– he hates posed pictures -- and turn them into something special. He posts them on Facebook and Instagram for the world to see.
"I self-assign," says Valdez, 64, who was also the former director of photography for Popular Hispanics and currently doing some work for the Georgetown View Magazine in Georgetown.
When Southwestern University in Georgetown resurrected its football program last fall, he was behind the lens at the town's pep rally. "I walk around to see what I can see. It's an exercise to keep me sharp."
The gentlemanly Valdez, who was raised in Albuquerque, began documenting life at a time when most kids
are getting into mischief, at about the age of 8. At his home, in a bedroom he's named the "Presidential Suite," Valdez goes back in time, showing his White House mementos. But he's especially proud of a worn album titled "Photos I Have Taken, by David Valdez." It has black and white prints of dogs, kids and one especially significant photo of a tree. The inquisitive boy who snapped it turned his pocket camera slightly so the tree could fit in a triangular frame. "Something was going on creatively that I turned the camera to get the photo," he says. It signaled what was to come.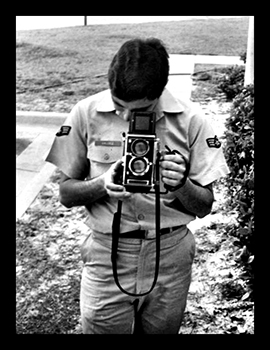 After graduating from high school in Albuquerque, Valdez joined the Air Force where he was told he'd become a photographer. After his four-year stint, he attended the University of Maryland where he earned a journalism degree, then landed a job with the Agriculture and Housing and Urban Development (HUD) departments documenting urban additions. Valdez later moved to the U.S. Chamber of Commerce to be the chief photographer.
In 1983, hearing of a job opening for photographer in the office of then-Vice President George H. W. Bush, Valdez fired off a letter. By then, Shirley Green, Bush's acting press secretary, had narrowed her choices to two when she got a call from a friend at HUD who persuaded her to interview Valdez.
She did and was impressed. "David had this sweet, gentle nature, a great personality and was a great photographer. I knew he'd be a good fit for Vice President Bush," she recalls. Valdez was hired. When Bush was elected President in 1988, Valdez was promoted to official White House photographer.
By job description, he followed Bush everywhere, even when the family went on vacation. That's when he got the photo. You know the one. In the summer
of 1987, the Bushes headed to their retreat in Kennebunkport, Maine. Life magazine requested a candid photo of Vice President Bush on vacation. Bush balked, but finally agreed on the condition that Valdez take the photo. But Valdez was stumped. What could he shoot that would be good enough for Life?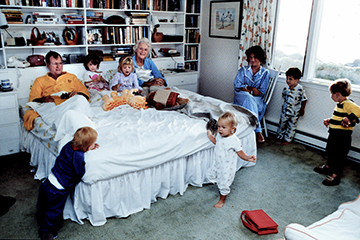 First Lady Barbara Bush had an idea; she told him to show up one morning to "watch what happens." Valdez arrived at 6 a.m. The Bushes were alone and relaxed, relaxed, that is, until their six grandchildren burst into their bedroom.
David snapped a shot of the playful scene -- doting grandparents in bed surrounded by kids and stuffed toys. On one side of the bed, Barbara Bush looked composed; her husband, however, appeared ruffled and not-so-ready for these early-morning shenanigans.
Life splashed the intimate moment across two pages. The magazine later used the iconic photo in its 1990 "Classic Moments" edition and again in its 2011 "Life 75 Years: The Very Best of Life."
The photo showed Bush, the man who would become leader of the free world, being a grandfather. "It showed the Bushes as normal folks," Valdez says.
The photo, his favorite, illustrated how Valdez approached his job. He was invisible. "You want to keep history pure. Early on when I walked in on the Bushes, they were being friendly by introducing me to friends. I reminded them that when they did that, then I became part of what they were doing. I wanted to take my photos and leave," he says.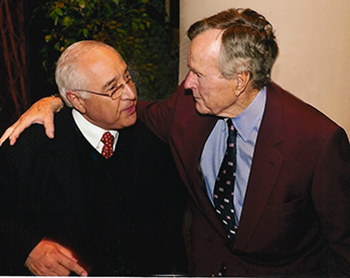 Former President Bush, who calls Valdez a friend, told Popular Hispanics the photographer was so adept at doing his job while staying out of the way, he rarely knew Valdez was even in the same room. "He literally captured history, but without interfering with history," Bush says. "For that, and for his friendship, I will always be grateful."
Memories are far too many to tell, but Valdez says a favorite is when Bush was campaigning for re-election. The Beach Boys boarded Bush's tour bus, and Valdez took an obligatory photo of Bush with the band to document the meeting. "Then I asked Mr. Bush to sit across from us. I got between the band members and handed the President my camera. He took the photo," he says.
What now? "I'm not done," he says of his role with the Georgetown View Magazine and is ready to do more work with George P Bush. "This is an opportunity to share new experiences through photos, and I'm willing to learn new things. You don't get too big for your boots."
Valdez's work is showcased. All of his Bush photos are archived at the Bush Presidential Library in College Station and the U.S. archives at College Park, Md.
(Also, see David Valdez's work on his Flickr account under DavidValdez-USA.)

The Art of Giving Series with David Garza & John Hogg

Apple Ripe for Harvest : Will iPhone 5 Mini + New Device Sizes Launch in September?

Eva Longoria GRADUATES -- I'm a MASTER of Chicano Studies


Celebrities Go Red For The American Heart Association At LA Fashion Week

VOTE FOR A CAUSE: Women of Worth

Local Charity Aims to Cure Deadly Pediatric Cancer With Star-Studded Fundraiser Gala